BUSINESS DEVELOPMENT CONSULTING & MANAGEMENT
We support implementation of business projects with high level of commitment. Our comprehensive consulting approach brings high value to all initiatives we engage in. We support companies and entrepreneurs in growing their international business.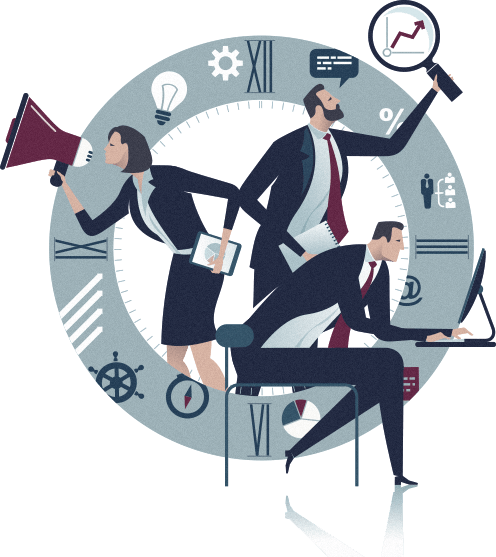 How we can help?
We serve as advisor, integrator and coordinator of development projects. We can support you in organising your new business or optimising the existing one, setting up companies and business structures, creating brands and products and expansion to new markets. We can build interdisciplinary teams consisting of project managers, infobrokers, experts for strategy, sales, e-commerce, finance, accountants, tax advisors, lawyers, and others who will jointly work for your success.
Research and Development
Market analysis
Legal analysis
Due Diligence
Patentability verification
Trade mark databases analysis
Analysis of potential financing sources
Complex feasibility studies
Strategy and development planning
Marker expansion strategies
Marketing strategies (branding, digital, event and content marketing)
Merger, acquisition divestment planning
Restructuring and succession planning
Finance strategies
Tax planning
Development projects realization
Project and program Management
360° degrees marketing campaigns
Branding and packaging
Integration and implementation of customised e-commers systems
Finansing sourcing
Tax advisory and account services
End to end legal services
Continuous development
Improvement of production and service processes
Financial and management controlling
Trainings
Efficiency and effectiveness verification for implemented strategies
MAKE AN OFFER UNQUIRY
Key benefits
BROTHERHOOD, CREATIVITY, FREEDOM – these three values reflect what is the most important for us. We believe that trust, openness and cooperation are the pillars to build key benefits for us and our clients. We create business environment where you can implement projects in a faster and more efficient way.
Longterm relationship approach

Focus on creating values

Comprehensive consulting and outsourcing

Practical approach

Agile Project Managment

Applying optimum solutions
Who do we work for
We work mainly for medium-size companies dynamically developing on domestic and international markets
Finance sector

E-commerce

FMCG

Medical industry

Cosmetics industry

Industry 4.0

Construction and development industry

ICT

Renewable energy sources and sustainable development sector

Design and furniture

Fashion industry

Others
100+
completed projects by our experts
35+
specialists at your disposal
from 14 years
our consultants advise Polish businesses
20+
certificates confirming competences
Our Experience
Our team consists of very experienced specialists with various background. We create the synergy which comes from years of experience gained in both domestic and international corporations combined with creativity proved in succesful startups. The agile approach allows us to adapt to the scale of your project and organisation.
Recently supported projects

XKANTOR.COM
Agile Project Management
Brand strategy
Customer Experience Strategy, UI+UX
Front End, Back End, Ruby On Rails
SEO optimization
Implementation of analytics for e-commerce
Social media strategy
Integration of the platform at the formal and legal level
Comprehensive accounting services
Legal counseling (GDPR, AML)

COSSI FULEREN
Acquiring financial resources for project development
Accounting and legal consulting regarding EU subsidies
Brand strategy and branding
Packaging and label designs
Consulting for export strategies
Event marketing strategy
Fair stand and POS
E-commerce + SEO
Social media strategy
AdWords campaigns, Facebook Ads

HIGH5 Sports Nutrition
Introduction of the British brand to the Polish market
E-commerce - construction and comprehensive service of the online store
Optimization of sales and logistics strategies for B2B and B2C
Comprehensive accounting services
Event marketing strategy in Poland
Development and implementation of PR strategy and content marketing
Comprehensive service in the field of social media
Influencer marketing, sponsoring
Comprehensive legal services

KOZICA Fundacja Biegów Górskich
Branding
Legal support regarding establish a foundation
Registration of trademarks
Comprehensive accounting and tax support for the foundation
Legal advice and reporting
AdWords strategy using the Google Grants program
Development of the new website ultrababia.pl
Sponsoring strategies and influencer marketing
Our partners
Our partners are renowned companies and organizations that are leaders in their segments. BROS. INVEST Ltd is a part of the DAUMAN BROS. EUROPEAN ECONOMIC INTEREST GROUPING. This organisation implements the mission of supporting the internationalisation and development of Polish enterprises. The grouping consists of the legal, advisory, financial and accounting companies.
Contact us
Zadzwoń pod numer: +48 535 015 835 lub złóż zapytanie ofertowe przez formularz.
We will discuss your needs and help you define project goals.
We will discuss your needs and help you define project goals.
We coordinate the implementation and provide information about the results achieved.